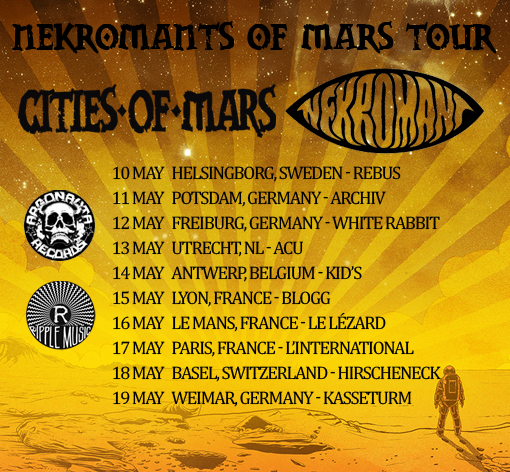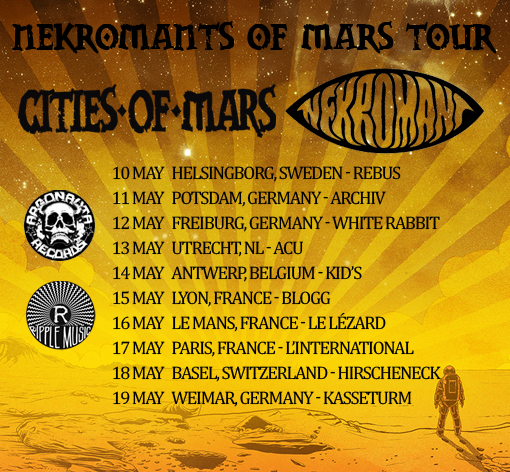 Ripple Music is thrilled to announce that Nekromant, the NWOBHM infused heavy rockers from Sweden, are joining forces with fellow Swedes, Cities of Mars, for a kick ass tour through Europe
The Nekromants of Mars Tour, finds two of Sweden's hardest working bands tearing across the continent for a shared headline Euro tour in May 2018.
Nekromant and Cities of Mars both come from the riff-heavy Gothenburg area in Western Sweden and have crossed paths before. After enjoying a shared packed-house gig in Berlin together in October 2017 stars aligned even more into a shared tour. Cities of Mars bring their latest material from the critically acclaimed Temporal Rifts album (out on Argonauta Records). Nekromant will be shredding tunes from their likewise critically-hailed latest effort Snakes & Liars that brought them to the attention of Ripple Music for an upcoming album.
The bulk of the dates are set as below, but a few more gigs might still turn up from the fertile heavy underground of Europe.
Nekromant had this to say about the upcoming tour.
"We're really happy to once again be playing with Cities of Mars! They're great guys and a crushing live act, and we're very thankful that they've invited us to join them on tour. This will be the longest set of dates we've done, so we hope we can keep it together and meet both new and old friends."
May 10 Helsingborg, Sweden - Rebus
May 11 Potsdam, Germany - Archiv
May 12 Freiburg, Germany - White Rabbit
May 13 Utrecht, Netherlands – ACU
May 14 Antwerp, Belgium - Kid's Rhythm n' Blues Kaffee
May 15 Lyon, France – Blogg
May 16 Le Mans, France - Le Lezard
May 17 Paris, France - L'International
May 18 Basel, Switzerland – Hirscheneck
May 19 Weimar, Germany - Kasseturm
Get more on Nekromant here:
Instagram: @theswedishnekromant
Get more on Cities of Mars here:
Instagram: @citiesofmars