It's finally here!!
Out of print for years, Ripple Music is proud to unleash the self-titled album by Stoner/Doom legends Freedom Hawk!
Unavailable on vinyl for years, we'll be releasing two editions, the "Red Freedom" Limited Edition milky clear vinyl with Red and Gold splatter, and the World-wide "Midnight Black" Edition.
"Red Freedom" limited to only 80 copies available, so you may want to hurry.
CD digipack also available.
Wrapped in core metal tones with slight psychedelic edges Freedom Hawk's driving beat and heavy guitars offer the kind of timeless vocals that gave light to the dawn of the new and heavy revival.
"Freedom Hawk, for instance, is the soundtrack to cold kegs, warm weather, and backyard barbecue. Jams like "On the Other Side" and "My Road" were made for: worshipping at the Super Fuzz altar. James Gang riffs groove it up behind singer T.R. Morton's excellent Ozzy/Pepper Keenan impression throughout seven songs of bong-loaded bliss." --- Invisible Oranges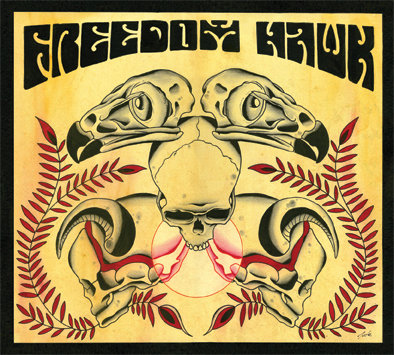 Ripple Music, based in California, is widely regarded as one of the world's leading purveyors of Heavy Psych, Stoner, Doom, and Heavy Rock.
All releases are available world wide through our distributors and the Ripple website.
Check us at
www.ripple-music.com